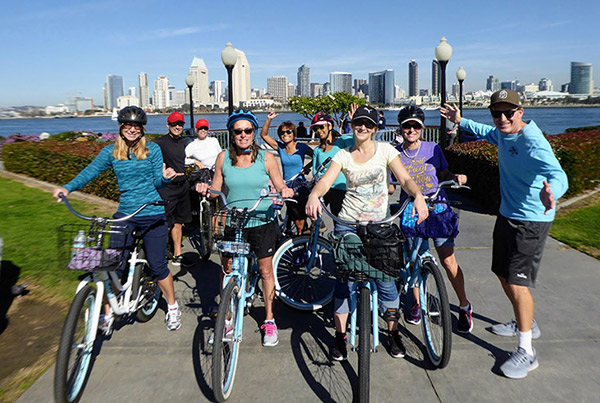 SEE SECRET SPOTS ON AN ELECTRIC BIKE
OR BEACH CRUISER!
At long last! There's now a way to enjoy San Diego's scenic views easily and effortlessly. Instead of struggling up those hills on a road bike, maybe it's time you try out our new Electric Bikes?
Remember when you were a kid and your favorite thing to do was ride your bike with your best friend? As a kid, life was good and you had no worries. Well, that's the feel of our bike rides! Whether it's a corporate group OR a social get together, our bike rides are FUN and designed for all fitness levels.
It's time to Get Outside and Discover hidden San Diego with Where You Want To Be. We take you where the guidebooks don't.
Note- We do both electric bike tours and biking tours on beach cruisers with no steep hills. We are currently doing groups of 4 or more. Call 619-917-6037 or email Menkin@WhereTours.com
Check out some of the Biking Tours below
Coronado Biking Tour
Explore beautiful Coronado the fun way – on a cool beach cruiser! This tour begins at OR near the Hotel Del. We ride through colorful side streets lined with gorgeous homes & pristine gardens. We'll ride past the Golf Course and will see spectacular views of the beach, bay, and the San Diego skyline. This is a great ride for people of all fitness levels as we ride at a comfortable pace and there are no steep hills. 2.5 to 3 hours. There will be additional costs if a Ferry ride is included.
Balboa Park and Mission Hills Bike Tour (Zoo to Blue)
See beautiful historical homes, wonderful canyons, and hidden footbridges that many locals don't even know exist. This ride is done for groups and can begin near the carousel in Balboa Park and end in Old Town. 2 hours
Discover La Jolla Bike Tour
Enjoy a nice ride through spectacular La Jolla and North Pacific Beach. During this adventure, you'll see it all, from La Jolla's jagged coastline to the hip boutique shops. See 5 secret beach areas. 2 hours
Discover Pacific Beach Bike Tour
Take a relaxed spin through one-of-a-kind Pacific Beach and Mission Bay. There are no steep hills and we go at an easy pace. Perfect for bike riders of all skill levels. 2 hours.
Discover North County Coastal Bike Tour
Ride along scenic Highway 101 and experience firsthand what makes North County such a special place! Highway 101 has some hills. 2.5 hours. No beginners, please.